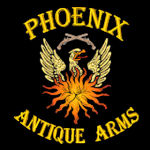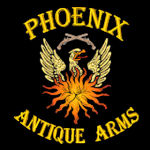 Antique flintlock and percussion pistols from Phoenix Antique Arms. Including Dragoon, Queen Anne, Land Pattern, Sea Service, Cavalry, target pistols, holster, travelling, overcoat, pocket, coaching and blunderbuss
PHOENIX ANTIQUE ARMS

We accept

Rifles & long guns - Revolvers & pistols - Cased pistols
Flintlock & percussion pistols - Derringers, pocket & travelling pistols - Armour, Accessories & Books


FLINTLOCK & PERCUSSION PISTOLS
The following items are a selection of the type and quality stock we keep. Please contact us by phone or by email sales@oldguns.co.uk for more information about any item below or for specific items you are looking for. Click on the picture to see an enlargement, use the browser BACK button to return to this page. Click on a page number to move to another page.
---
A very high quality 48 bore flintlock cannon barrelled boxlock pocket pistol by Turvey. The pistol has a tapering and banded turn off barrel, which is free. The action is feather engraved and signed 'Turvey', It has a central swan necked cock and sliding trigger guard safety. The slab-sided walnut butt has silver wire inlay, with no apparent loss. Unusually, the two sides of inlay to the butt are of two differing patterns. There are good proof and maker's marks to the underside of the breech. The metal work overall is to a smooth dark patina. This is a lovely piece in very good working order and condition. Barrel length 2¼in. Overall length 7 ½in.

£1250
Stock No. 5680
---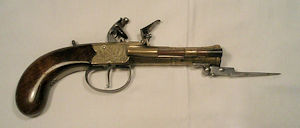 A good, sharp flintlock blunderbuss pistol with folding bayonet by Brander and Potts, London. The pistol has a grey finish to the steel parts, including the bayonet but please note, the bayonet catch spring has gone soft. The brass profiles are good and sharp and have not been over polished. It has good, well fitting wood to the rounded butt. Length overall 8.5in. Barrel length 4in. Good working order and condition.

Stock No. 5672
£1730
---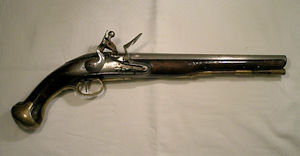 A good heavy dragoon flintlock pistol by Edge, dated 1760 to the lock. The wood is to a dark patina and it has standard brass furniture. There is a crack to the trigger guard strap, a small split to the fore-end and there is a repair to the wood on the left hand side by the trigger. The ramrod appears to be a replacement. Good working order and fair condition.
HOLD

£3250
Stock No. 5191
---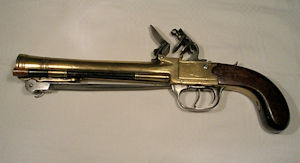 A flintlock boxlock brass barrelled blunderbuss pistol of approximately 12 bore by Waters & Co. The gun has a good clean barrel with some wear to the action. It has an under slung bayonet with rear trigger release, however the bayonet spring is weak. To the left hand side the pistol retains it's original ram rod with worm We think this pistol has possibly been re-stocked at some time during it's working life. This is a good looking Waters at a reasonable price. Good working order and fair condition. Barrel length 7in. Overall 12½in. Bayonet length 5½in.

£1495
Stock No. 5629
---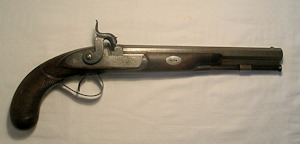 A 40 bore 10 in. barrelled percussion duelling pistol by Joseph Bourne. The gun has an octagonal barrel, set trigger and light pepper pitting to the lock plate. It has a clean chequered wooden butt with a few minor knocks and scratches. Good working order and condition.

£845
Stock No. 5529
---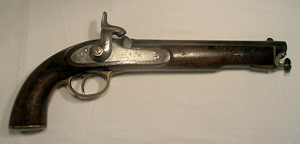 A Pattern 1852 Lancer percussion pistol. The metal work is to a grey patina and the lock is dated 1858 with Tower and Crowned VR. The lanyard ring is missing from the butt and the wood is good with no cracks, just the usual assortment of small knocks and scratches. Good working order and condition.

£1095
Stock No. 5491
---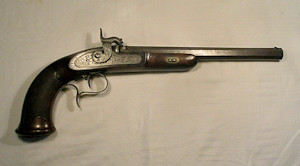 A good 40 bore octagonal barrelled rifled percussion target pistol, un-named. All the metal work is to a grey patina and there is a little wear to the corners of the barrel flats. There is a cap trap to the butt. The wood retains much original varnish with a few small knocks. The gun has a set trigger and a good bore. Good working order and condition.

£925
Stock No. 5355
---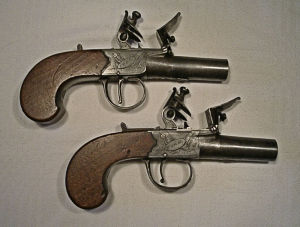 A pair of 40 bore flintlock boxlock pistols by I. Pratt of York. The guns have very sharp metal work which is to a dark patina. The pistols are number 3 and 4. One has a rolled trigger guard, the other is not rolled – this is the only difference between them. Both pistols have clean and sharp slab sided butts with one or two minor knocks. A nice, honest and sharp pair of pistols. Barrel length 1¾in. Overall length 6¼ in. Very good working order and condition.

£895
Stock No. 5120
---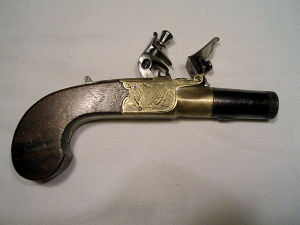 A fine, sharp flintlock 38 bore boxlock concealed trigger overcoat pistol by Cartmel of Doncaster. The pistol has a turn off barrel and there is some original blue to concealed trigger. The pistol has a good sharp brass boxlock action and the barrel has been re-blued. The pistol has a top safety and a silver escutcheon to a fine slab sided wooden butt with one or two minor marks. Very good working order and condition. Barrel length 1¾in. Overall length 6½in.

£595
Stock No, 5112
---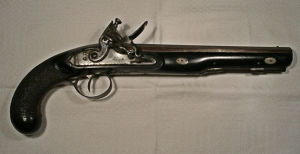 A 16 bore flintlock officer's/duelling pistol by Wheeler. The pistol has clean metalwork, Tower proof marks and a rolled trigger guard. The stock has been cracked in a couple of places and expertly repaired. It has a finely chequered butt and the ramrod has been replaced. Good working order and fair condition.

£895
Stock No. 5082
---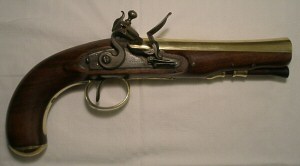 A brass barrelled flintlock blunderbuss pistol by Moore. Very clean barrel with proof marks to the underside of the barrel. The brass furniture is in very good condition with the steel parts to a clean, dark patina. The pistol has a roller frizzen. The horn tipped ramrod is possibly a replacement. Very good working order and condition. Barrel length 6in. Overall length 11in.

£1995
Stock No. 4787
---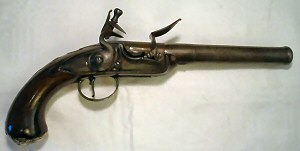 A good, early circa 1730 22 bore silver mounted turnoff pistol by Gandon. The metal is to a nice even dark patina. It has a silver side plate, escutcheon and grotesque butt cap. It has a rolled trigger guard and very nice, clean wood with a smooth patina. Barrel length 5¼in. Overall 11¼in.

£1990
Stock No. 4824
---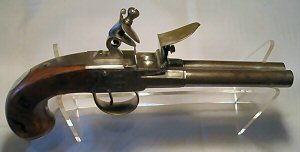 A 54 bore double barrelled side by side boxlock flintlock pistol by J. & W. Richards. The gun has a sliding trigger guard safety, and a single cock with sliding cover to pan. It is London prooved and has very sharp metal to a grey finish. The pistol has a silver butt cap with hall marks for 1812 and silver maker's mark of William Freeth. (J. & W. Richards are recorded working at Staining Lane between 1808 and 1810) Very good working order and condition. Barrel group 4in. Overall length 10½in.

£2895
Stock No. 4684
---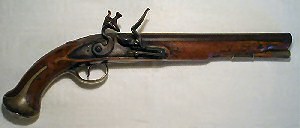 A very fine Heavy Dragoon flintlock pistol by Abbey in sleepy condition. Storekeeper's marks to side of trigger guard and to ramrod channel and what appears to be the original ramrod. The pistol has very good wood to stock with a small sliver loss to right hand side of fore-end. (Very old loss) The stock is marked "1780". The pistol has fine brass furniture with no damage and the rest of the metal work is to a dark patina. A very fine example of a rare pistol.

£4945
Stock No. 4334

---

Rifles & long guns - Revolvers & pistols - Cased pistols
Flintlock & percussion pistols - Derringers, pocket & travelling pistols - Armour, Accessories & Books
---
PHOENIX ANTIQUE ARMS,
17 Darracott Close, Deal, Kent CT14 9PU
Mrs. Susan Dorothy Reason t/a Phoenix Antique Arms (2021)
Please contact Susan on 01304 372651 or e-mail us at: sales@oldguns.co.uk Web: www.oldguns.co.uk & www.antique-arms-and-guns.co.uk