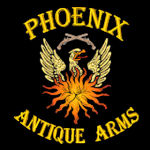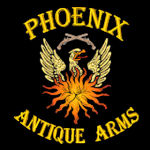 Antique flintlock and percussion pistols from Phoenix Antique Arms. Including Dragoon, Queen Anne, Land Pattern, Sea Service, Cavalry, target pistols, holster, travelling, overcoat, pocket, coaching and blunderbuss
PHOENIX ANTIQUE ARMS

We accept

Rifles & long guns - Revolvers & pistols - Cased pistols
Flintlock & percussion pistols - Derringers, pocket & travelling pistols - Armour, Accessories & Books
---
Armour, Accessories and Books
The following items are a selection of the type and quality stock we keep. Please contact us by phone or by email sales@oldguns.co.uk for more information about any item below or for specific items you are looking for. Click on the picture to see an enlargement, use the browser BACK button to return to this page. Click on a page number at the bottom to move to another page.
---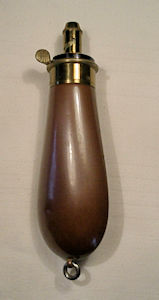 A very fine 54 bore flask by Dixon & Sons, retaining all it's original finish to body and gilding to the top. The body has a couple of very tiny dents. Overall length including ring 5¾in.

£450
Stock No. 5199
---
A very fine 3 way percussion flask retaining all it's finish with no dents. Overall length 3¾in.
HOLD

£595 Stock No PR39
---
An original very good 80 bore Tranter bullet tin with some bullets.
HOLD

£120
Stock No. AC17
---
A fine bronze 80 bore Tranter bullet mould with cavities as new.
HOLD

£375
Stock No. AC18
---
A fine 120/80 bore pistol flask by James Dixon & Sons. The flask retains all it's silver lacquer to the body and a good percentage of original gilding to the top, with a little staining. Please note: the spring is broken.
HOLD

£385
Stock No. AC20
---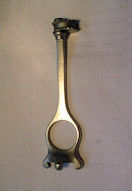 A white metal cartridge extractor by Hawksley for a 12 bore sporting gun. Very good condition.

£80
Stock No. AC12
---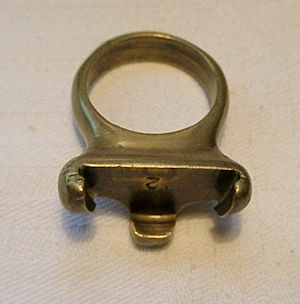 A 12 bore brass finger ring cartridge extractor. Very good condition.

£30
Stock No. AC14
---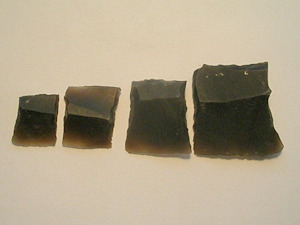 FLINTS
Due to these flints being natural and hand knapped the dimensions are approximate.
| | | | |
| --- | --- | --- | --- |
| EXTRA SMALL: | Suitable for small pocket pistols. | Average size up to 2cms. | £1.50 each |
| SMALL: | Suitable for overcoat size pistols. | Average size 2cms. | £2 each |
| MEDIUM: | Suitable for larger pistols and small rifles. | Average size 2 – 2.5 cms. | £2.50 each |
| LARGE: | Suitable for muskets, etc. | Average size over 2.5cm. | £3 each |

Postage costs: Single flint £1
Multiple flints post free

---
A very large adjustable copper powder flask marked 'Capewell's Patent 1880' and is graduated to measure between 2½ and 6 drams of powder. It is late for a large bore percussion rifle but was possibly used for reloading cartridges. It has two or three tiny dents to the body and a very good condition nickel top. Overall length 12 in. Very good working order and condition.

£490
Stock No. 5383
---
A French Empire Style flintlock powder tester circa 1800. It has a rolled trigger guard, steel butt cap and slight staining to the metal work but no pitting. Good wood with very good chequering. Good working order and condition Overall length 9in.

£420
Stock No. 5096
---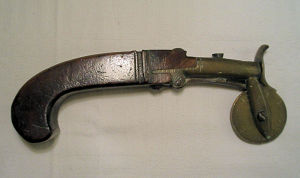 A nice, original match ignited powder tester, circa 1750. It has a graduated wheel against a spring. There are a few small knocks to the brass and it has a nice, clean butt.

£395
Stock No. 5038
---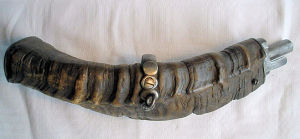 An 18th century Spanish ibex horn powder flask. This is a beautiful, large powder flask, 13½in. overall. It has all steel mounts which are to a grey finish. Very good condition.

£395
Stock No. 4965
---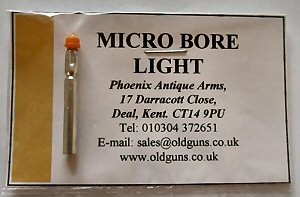 Our own very small bore light with bright yellow light. Will fit as small as a 22 and only 1¼in. long. Including postage and packing.

£6.50p. each

---

Rifles & long guns - Revolvers & pistols - Cased pistols
Flintlock & percussion pistols - Derringers, pocket & travelling pistols - Armour, Accessories & Books
---
PHOENIX ANTIQUE ARMS,
17 Darracott Close, Deal, Kent CT14 9PU
Partners Peter B. Reason & Susan D. Reason
Please contact Peter or Susan on 01304 372651 or e-mail us at: sales@oldguns.co.uk Web: www.oldguns.co.uk & www.antique-arms-and-guns.co.uk