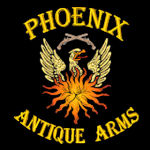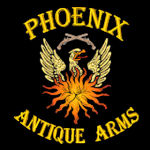 Antique flintlock and percussion pistols from Phoenix Antique Arms. Including Dragoon, Queen Anne, Land Pattern, Sea Service, Cavalry, target pistols, holster, travelling, overcoat, pocket, coaching and blunderbuss
PHOENIX ANTIQUE ARMS

We accept

Rifles & long guns - Revolvers & pistols - Cased pistols
Flintlock & percussion pistols - Derringers, pocket & travelling pistols - Armour, Accessories & Books
---
Armour, Accessories and Books
The following items are a selection of the type and quality stock we keep. Please contact us by phone or by email sales@oldguns.co.uk for more information about any item below or for specific items you are looking for. Click on the picture to see an enlargement, use the browser BACK button to return to this page. Click on a page number at the bottom to move to another page.
---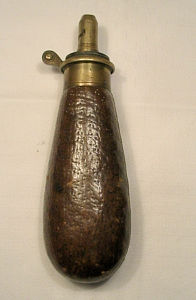 A leather covered bag shaped powder flask by Sykes for a pistol or possibly a rook rifle. The leather and stitching are in very good condition and the flask is marked with 'Sykes Patent' on the top. Please note that the spring is missing. Overall length, including spout 5¾in. Width 2in.

£300
Stock No. 4043
---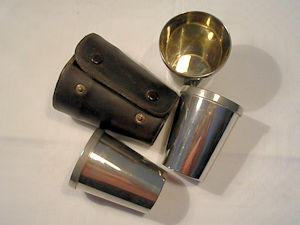 A trio of vintage stainless steel tot cups contained in their dark brown soft leather case. All in very good condition.

£28
Stock No. 5704

---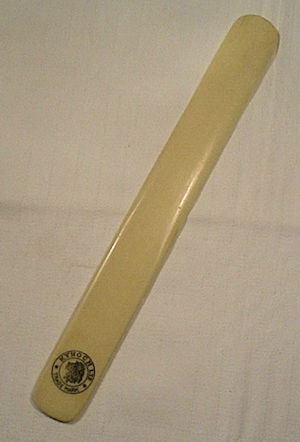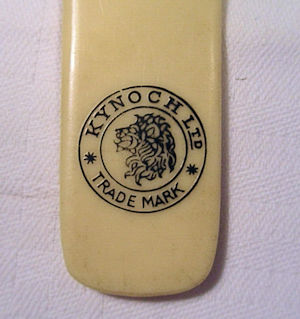 An ivorine letter opener by Kynoch Ltd. This is in very good condition with a clear trade mark stamp. These were given to retailers in the 1950-1960s by Kynoch reps. Length 8¾in.

£24
Stock No. 5715

---

A stainless steel 6oz. hipflask by Simpson, London, contained in a black leather case with integral belt loop. Very good as new condition.

£38
Stock No. 5712

---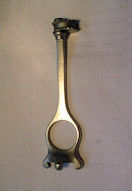 A white metal cartridge extractor by Hawksley for a 12 bore sporting gun. Very good condition.

£80
Stock No. AC12
---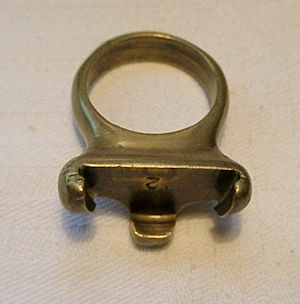 A 12 bore brass finger ring cartridge extractor. Very good condition.

£30
Stock No. AC14
---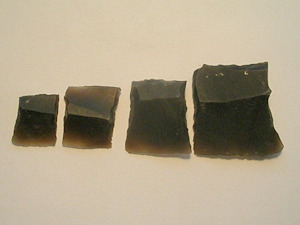 FLINTS
Due to these flints being natural and hand knapped the dimensions are approximate.
| | | | |
| --- | --- | --- | --- |
| EXTRA SMALL: | Suitable for small pocket pistols. | Average size up to 2cms. | £1.50 each |
| SMALL: | Suitable for overcoat size pistols. | Average size 2cms. | £2 each |
| MEDIUM: | Suitable for larger pistols and small rifles. | Average size 2 – 2.5 cms. | SOLD OUT |
| LARGE: | Suitable for muskets, etc. | Average size over 2.5cm. | £3 each |

Postage costs: Single flint £1
Multiple flints post free

---
A very large adjustable copper powder flask marked 'Capewell's Patent 1880' and is graduated to measure between 2½ and 6 drams of powder. It is late for a large bore percussion rifle but was possibly used for reloading cartridges. It has two or three tiny dents to the body and a very good condition nickel top. Overall length 12 in. Very good working order and condition.

£490
Stock No. 5383
---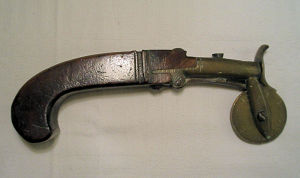 A nice, original match ignited powder tester, circa 1750. It has a graduated wheel against a spring. There are a few small knocks to the brass and it has a nice, clean butt.

£395
Stock No. 5038
---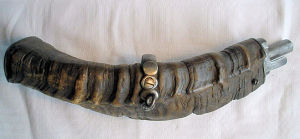 An 18th century Spanish ibex horn powder flask. This is a beautiful, large powder flask, 13½in. overall. It has all steel mounts which are to a grey finish. Very good condition.

£395
Stock No. 4965
---

Rifles & long guns - Revolvers & pistols - Cased pistols
Flintlock & percussion pistols - Derringers, pocket & travelling pistols - Armour, Accessories & Books
---
PHOENIX ANTIQUE ARMS,
17 Darracott Close, Deal, Kent CT14 9PU
Mrs. Susan Dorothy Reason t/a Phoenix Antique Arms (2021)
Please contact Susan on 01304 372651 or e-mail us at: sales@oldguns.co.uk Web: www.oldguns.co.uk & www.antique-arms-and-guns.co.uk