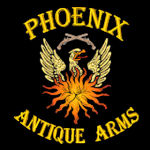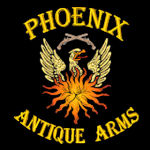 Antique, falling block rifles, big game rifles, double rifles, carbines and blunderbuss from Phoenix Antique Arms. Including Brown Bess, Winchester, Mauser, Peabody, Evans, BSA, Gibbs, Marlin, Spencer, Enfield, Martini Henry, P. Webley & Son.
PHOENIX ANTIQUE ARMS

We accept

Rifles & long guns - Revolvers & pistols - Cased pistols
Flintlock & percussion pistols - Derringers, pocket & travelling pistols - Armour, Accessories & Books




RIFLES & LONG GUNS
The following items are a selection of the type and quality stock we keep. Please contact us by phone or by email sales@oldguns.co.uk for more information about any item below or for specific items you are looking for. Click on the picture to see an enlargement, use the browser BACK button to return to this page. Click on a page number at the bottom to move to another page.
---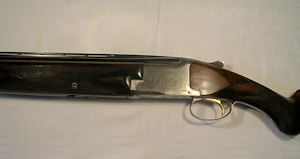 A 12 bore over/under Browning B1 Shotgun. It has clean, un-marked bores, 26in. barrels with Quarter and Improved chokes. The gun has a single selective trigger and manual safety. It has good, well figured wood to the stock. There is a tiny chip to one corner of the fore-end. The action is tight. Good working order and condition. PLEASE NOTE: THIS GUN REQUIRES A SHOTGUN CERTIFICATE TO PURCHASE AND WOULD NEED TO BE COLLECTED IN PERSON

£895

Stock No. 5412
---

A very good William IV flintlock Paget carbine. Apart from storage marks this gun appears to have had very little use. There are a couple of marks to the butt. The metal work is to a smooth dark brown patina. Very good working order and condition.

£2995
HOLD

Stock No. 5177
---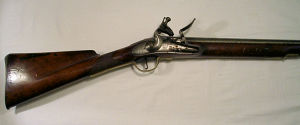 An officer's flintlock fusil with 32 in. barrel. The banana lock is marked 'GR Farmer 1742'. There is some very light pitting to the metal work. The wood is nice and clean with a good patina. There is a crack on the left hand side of the stock in front of the side plate and it has the wrong rammer. Good working order and condition.

£2350
NOW £2,000

Stock No. 5176
---

Rifles & long guns - Revolvers & pistols - Cased pistols
Flintlock & percussion pistols - Derringers, pocket & travelling pistols - Armour, Accessories & Books
---
PHOENIX ANTIQUE ARMS,
17 Darracott Close, Deal, Kent CT14 9PU
Mrs. Susan Dorothy Reason t/a Phoenix Antique Arms (2021)
Please contact Susan on 01304 372651 or e-mail us at: sales@oldguns.co.uk Web: www.oldguns.co.uk & www.antique-arms-and-guns.co.uk