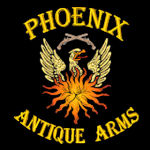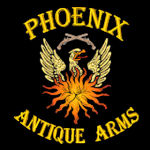 Antique derringer, pocket and travelling pistols from Phoenix Antique Arms including Derringer, muff, pocket, overcoat, travelling, revolver, rimfire and percussion pistols.
PHOENIX ANTIQUE ARMS

We accept

Rifles & long guns - Revolvers & pistols - Cased pistols
Flintlock & percussion pistols - Derringers, pocket & travelling pistols - Armour, Accessories & Books


DERRINGERS, POCKET & TRAVELLING PISTOLS
The following items are a selection of the type and quality stock we keep. Please contact us by phone or by email sales@oldguns.co.uk for more information about any item below or for specific items you are looking for. Click on the picture to see an enlargement, use the browser BACK button to return to this page. Click on a page number at the bottom to move to another page.
---
A bronze framed round bodied 40 bore Birmingham prooved percussion pocket pistol marked 'Southall London'. The steel work is to a dark patina with no pitting, and it has a good chequered wooden stock with a silver escutcheon. Barrel length 1½in. Overall length 6in. Good working order and condition.

£285
Stock No. 5296
---
A boxlock flintlock 60 bore London prooved pocket percussion pistol marked 'London'. The metalwork is to a dark patina, it has a rolled trigger guard and sliding trigger guard safety. It has good wood with one or two minor knocks. The trigger guard is a little loose. Barrel length 2¼in. Overall length 7in. Good working order and condition.

£360
Stock No. 5297.
---
A bronze framed No. 2 rimfire derringer by National Arms Co. The barrel is to a steel patina, the bronze frame is evenly patinated and the wood grips retain approximately 50% original varnish. This is a fairly rare derringer in good working order and good condition.

£585
Stock No. 5293
---
A very good .41 Colt No. 3 nickel plated derringer. This derringer retains much original nickel plate with a patch of loss to left hand side of the barrel. It has London proof marks and very nice grips retaining much original varnish. Very good working order and condition.

£745
Stock No.5261
---
A .42 rimfire Remington over/under derringer. This pistol retains a good percentage of worn original nickel plate. There is the two line address to the barrel and it has clean, smooth grips. Good working order and fair condition.

£695
Stock No.5260
---
A very good flintlock boxlock pocket pistol by Cartmell Doncaster. The gun has smooth metal work to a dark patina and a rolled trigger guard. It has a fine slab-sided un-marked butt with all it's original varnish.Very good working order and condition.

£425
Stock No. 5237
---
A fine quality round action concealed trigger flintlock boxlock pocket pistol by Sykes Oxford. The metalwork is to a pleasing dark patina and all engraving and detailing is very sharp. It has a finely chequered wooden butt with a rub mark to both sides. It has a silver butt cap and escutcheon. Very good working order and fine condition.

£595
Stock No. 5241
---
A good boxlock flintlock Birmingham prooved pocket pistol (unnamed). It has a folding trigger and the metal work is very crisp and to a dark patina. There is the number '6' to both the barrel and action. It has a good clean grip with a silver escutcheon and a few minor knocks to the base of the butt. Good working order and good condition.

£425
Stock No. 5242
---
A very unusual single shot 54 bore Continental rifled pinfire pistol by P. Berjat. The damascus barrel retains all it's original finish. The pistol has a concealed trigger, engraved action with it's original polished steel finish. It has a very finely carved wood butt with no damage. Barrel length 3½in. Overall 7½in. Very good working order and fine condition.

£395
Stock No. 5136
---
A fine double barrelled 60 bore overcoat percussion pistol by Towl, Boston. The action and barrels retain much original case hardening colours and there is a gold line to the breech. The blued trigger guard has some fading. The pistol has a very finely chequered walnut butt with one or two very tiny marks. The pistol still retains it's original serrated nipple. A very fine little pistol, hard to find in this condition. Barrel group 3½in. Overall length 8in.

£1380
Stock No. 5128
---
A nice, early .41 rimfire over/under Remington derringer, retaining 90% original nickel plate finish. There is a small crack to the left hand side of the hinge. It has very good grips and fine bores. Very good working order and condition.

£895
Stock No. 5088
---
A .36 percussion pocket revolver by Allan and Wheelock. The pistol is to an overall grey patina to the metal with a little light pitting to the cylinder. The wooden grips are good. Barrel length 4in. Good working order and fair condition.

£680
Stock No. 5018
---
A .32 rimfire Union Arms Co. six shot revolver. The metal is clean and to a grey patina with a couple of very small areas of light pitting. The gun has nice original grips retaining some varnish. Barrel length 3¾ in. Good working order and condition.

£495
Stock No. 5023
---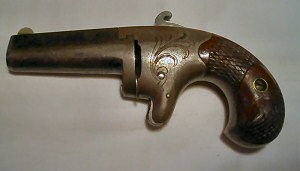 A very good .41 rimfire Colt No. 2 derringer, Serial No. 8132. The chequered wooden grips retain nearly all original varnish. The body of the gun is to a grey patina and the barrel blue is fading to brown. Very good bore and the gun is London prooved.

£1550
Stock No. 4637

---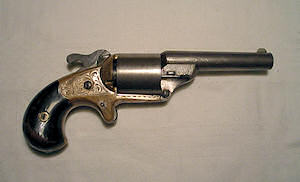 A .31 Moore's teat fire revolver. There is a little rubbing to the original grips with the bronze frame retaining traces of original plating. The metal is to a grey patina. Good working order and condition.

£625
Stock No. 4518

---
A good .32 rimfire Smith and Wesson Model 1½ retaining approximately 60% original finish and nearly all original varnish to grips. Overall length 8in. Barrel length 3½in.

£640
Stock No. 4475

---

Rifles & long guns - Revolvers & pistols - Cased pistols
Flintlock & percussion pistols - Derringers, pocket & travelling pistols - Armour, Accessories & Books
---
PHOENIX ANTIQUE ARMS,
17 Darracott Close, Deal, Kent CT14 9PU
Partners Peter B. Reason & Susan D. Reason
Please contact Peter or Susan on 01304 372651 or e-mail us at: sales@oldguns.co.uk Web: www.oldguns.co.uk & www.antique-arms-and-guns.co.uk