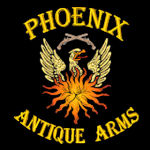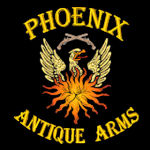 Antique derringer, pocket and travelling pistols from Phoenix Antique Arms including Derringer, muff, pocket, overcoat, travelling, revolver, rimfire and percussion pistols.
PHOENIX ANTIQUE ARMS

We accept

Rifles & long guns - Revolvers & pistols - Cased pistols
Flintlock & percussion pistols - Derringers, pocket & travelling pistols - Armour, Accessories & Books


DERRINGERS, POCKET & TRAVELLING PISTOLS
The following items are a selection of the type and quality stock we keep. Please contact us by phone or by email sales@oldguns.co.uk for more information about any item below or for specific items you are looking for. Click on the picture to see an enlargement, use the browser BACK button to return to this page. Click on a page number at the bottom to move to another page.
---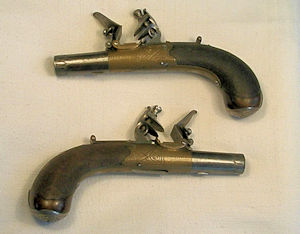 A very pretty pair of 100 bore flintlock muff pistols by Blissett. The pistols have round brass bodies and concealed triggers. They have sliding safeties and rain proof pans. The wood work of the bag-shaped grips is finely chequered and have engraved white metal butt caps. The pistols have engraved bands round the muzzles and the actions are also nicely engraved. The barrels are frozen and one top jaw and screw may have been replaced. Good working order and condition. Length of barrels 1¼in. Overall length 5¼in.

£1700
Stock No. 5702
---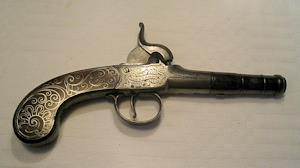 A Tower prooved turnoff boxlock cannon barrelled 54 bore percussion pistol by Collis. This pistol has a rolled trigger guard and all the metal work is to a smooth grey patina. It has been converted from flintlock and has a very fine slab-sided undamaged butt retaining virtually all it's original silver wire inlay. Overall length 8in. Barrel length 2in. Very good working order and condition.

£585
Stock No. 5504
---

Rifles & long guns - Revolvers & pistols - Cased pistols
Flintlock & percussion pistols - Derringers, pocket & travelling pistols - Armour, Accessories & Books
---
PHOENIX ANTIQUE ARMS,
17 Darracott Close, Deal, Kent CT14 9PU
Mrs. Susan Dorothy Reason t/a Phoenix Antique Arms (2021)
Please contact Susan on 01304 372651 or e-mail us at: sales@oldguns.co.uk Web: www.oldguns.co.uk & www.antique-arms-and-guns.co.uk