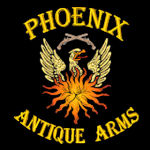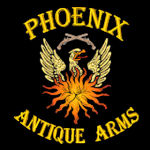 PHOENIX ANTIQUE ARMS
We would like to acknowledge all the hard work and research done by Kerry and Carol Guerin and the Firearms Technology Museum of New South Wales, Australia. Probably the definative source of Tranter information.
History of William Tranter Gunmaker
William Tranter born 1816 at Oldbury nr Birmingham and was the eldest son of Thomas and Mary Tranter. Thomas' occupation was a blacksmith. William had four brothers and four sisters and in 1830 at the age of 14 was apprenticed to the gunsmithing firm of Hollis Bros & Co.in Birmingham. He left Hollis Bros in 1839 and bought out the business of Robert Dugard at 29.5 Whittall Street, Birmingham with a small legacy left to him by an uncle. An advertisement in 1841 read
"William Tranter (successor to R. Dugard), Gun and Pistol maker, for home and exportation, No.29.5 Whittall Street, Birmingham. Percussion caps, waddings, implements, barrels, locks, and furniture of every description."
He stayed at the Whittall Sreet address until 1849. In 1846 he took on his younger brother David as an apprentice.
He was also in partnership with John and Isaac Hollis in Hollis Brothers and Co. at 10-11 Weaman Row between 1844 and 1849, and also with Isaac Brentnall Sheath from 1845. Tranter had shops, sheds and steam machinery, yard and premises at 50 Loveday Street between 1854 and 1860. By 1851 Tranter's factory was at 13 St Mary's Row in the heart of Birmingham's Gun Quarter.
Up until, and possibly after 1853 he manufactured over 8000 1851 Adams revolvers under license. About 1853 he started making the first of his double trigger, double action revolvers. This model was built on the Adams frame and had a detachable rammer which fitted onto a peg attached to the frame. Circa 1854/5 production began on a new model, the rammer being secured by a keyed peg on the frame and a hook on the barrel. This rammer could still be removed by turning it around to the appropriate position.He also manufactured his own version of the Beaumont Adams revolver, known as the Tranter/Adams/Kerr.
Some time after 1856 production began on what is now commonly referred to as the third model double trigger revolver. This had a more streamlined frame and the rammer was secured to the frame with a screw. At the same time production began on a single trigger double action revolver based on the same frame, now referred to as the fourth model. The production of percussion revolvers continued well after the introduction of the cartridge revolver as many customers preferred the old system thinking this new fangled cartridge system would not last. Tranter also produced percussion revolving rifles in various configurations including both single and double trigger mechanisms.
In America both single and double trigger percussion revolvers were popular in the Confederate States. A. B. Griswold & Co and messrs Hyde & Goodrich, both from New Orleans, were importers. Allan Pinkerton, the Scottish born founder of the most famous detective agency in America carried two Tranters and is said to have armed his men with Tranter double trigger revolvers. In 1868 Pinkerton and another detective were taking a prisoner by steamer from Galveston, Texas to Cheyene when he tried to escape by jumping overboard. Pinkerton started firing into the water in close proximity to the escapee with his Tranter revolvers and the prisoner promptly surrendered. A nickel plated and engraved model 1879 Tranter made by Thomas Tranter after William retired in 1885 and marked "Made for W.A. Pinkerton by Thos M. Tranter. 16 Weaman St., Birmingham." is thought to have belonged to Wm. A. Pinkerton, one of Allan's sons.
During this period it was normal practice to describe the diameter of the bore in bore size rather than calibre. The bore size being the number of round lead balls of that diameter needed to weigh one pound. The most common ones used by Tranter were 120 bore (.320"), 80 bore (.380"), 54 bore (.442"), 38 bore (.500") and 24 bore (.577").
In 1863 Tranter secured patents for some of the first rim fire revolvers in Britian. Revolvers based on these patents included small calibre single and double action revolvers as well as the model 1863, a large solid frame revolver in .442" calibre. This revolver was fitted with a powerful lever extractor which acted on the rim of the spent cartridge, this proved more effective as the cartridges of the time were prone to jamming in the chamber and a normal extractor could break the base of the cartridge away, leaving the rest still in the chamber.
He also completed construction of a new factory in 1863 at 31 Lichfield Road, Aston Cross. The factory at Aston Cross was called "The Tranter Gun and Pistol Factory" and business was conducted at both addresses for some time. During this time it was the most extensive pistol making business in the Midlands producing over 20 different cartridge revolvers and pistols of his own design, he also had government contracts for Snider rifles and also supplied weapons of every kind to the gun trade in general including overseas markets. His own patented mechanisms would have had preference but he made special production runs under the patents of firms or individuals lacking manufacturing facilities of their own. In 1877 the Lancers reputedly carried out trials on Tranter double barrel pistols.
Tranter was a substantial property owner, a founder/shareholder in the Birmingham Small Arms Co. Ltd. (a director in its early years) and a prominent member of the Birmingham small arms trade. In 1854 he was called as a witness before the parliamentary committee on small arms. The Braendlin Armoury, the firm of Bently and Playfair and Charles Reeves were all tenants of William Tranter.
In 1868 he began manufacturing a revolver to take the .450 boxer cartridge and in 1878 was granted a government contract for a solid frame .450 centre fire revolver to be used by the British army. He also made single action single shot saloon pistols and rook rifles in various calibres. One of the last weapons he made was an excellent hinged frame, self extracting revolver called the model 1879.
Tranter was very patent conscious and between 1849 and 1888 lodged 24 patent applications. The 19 patents for cartridge weapons included bolt action rifles and machine guns as well as his revolvers.
When Tranter retired in 1885, he gave each of his four nephews a gilt and engraved double action revolver as a keepsake. The factory was leased by George Kynoch, a friend of Williams, and it was renamed The Kynoch Gun Factory. One of the weapons manufactured was a self cocking hinged frame self ejecting revolver under Henry Schlund's Br Patent No.9084 of July 28th 1885. This revolver used the double trigger principle but with both triggers inside the trigger guard. Kynoch was M.P. for Aston as well as president of the Aston Villa Football Club. In 1888 he yielded to pressure and resigned leaving his works manager Henry A Schlund in control. The name was changed to the Aston Arms Factory but ran into financial trouble in 1891. By 1900 business had ceased and the factory was occupied by the Clipper Automatic Tyre Co. and then by Dunlop Rubber making motor vehicle tyres. In 1926 it was sold to Hercules Cycle Co. The factory was ultimately demolished in 1961. William Tranter died on January 7th, 1890.
Williams son in law, Thomas William Watson of 4 Pall Mall, London was connected with the London gun trade but his own son, William Grosvener Tranter was apparently only slightly interested in the industry although it appears that he registered at least two firearms patents. Watson's brother joined him in 1884 forming the company of Watson Bros. William's nephews, Walter Tranter, Alfred William Thompson and Thomas Musgrove Tranter were raised in the gun trade. Thomas was listed as a gun action filer at Dean Buildings, Weaman Street in 1890 and is known to have made complete weapons. Walter started business in 1896 at 31.5 Whittall Street and in 1897 was joined by Thomas, In 1900 they moved to 18 Sand Street, Birmingham forming the firm of Tranter Bros. Gunmakers. The firm moved to Steelhouse lane in the 1920s and closed in 1957.
Walter Tranter sold bicycles in the 1890's during the cycle "boom", they were called "The Tranter" and were assembled from parts bought in. The badge was made of pressed brass in the form of a bicycle wheel surrounded by a crown, across the centre of the wheel "TRANTER" on a red enamel band with "The Maker" above and below. Under the wheel was a scroll with "W. Tranter 32A Whittal St, Birmingham" on blue enamel. During this time there were hundreds of makers in and around Birmingham with a large number of firms already in the engineering area like gunsmiths, blacksmiths, wheelwrights, locksmiths etc., assembling machines from imported parts.
Tranter Family Details
TRANTER, THOMAS
Married Mary Ann Lees in 1815, occupation smith, 5 sons and 4 daughters.
TRANTER, WILLIAM **W.T.**
Born 1816 at Oldbury. Circa 1850 his private address was 98 New john St West, Birmingham and from circa 1867 he lived at Colmore Terrace, 318 Summer Lane Birmingham. Parents Thomas and Mary, married Amelia Elizabeth Grosvenor with one son William Grosvenor and one daughter Mary Louisa. William was one of Birmingham's most influential gunmakers from before 1849 until he retired in 1885, he passed away on January 7th 1890 aged 74.
GROSVENOR, AMELIA ELIZABETH
Born 1824 at Birmingham, wife of W.T.
TRANTER, WILLIAM GROSVENOR
Son of W.T. born at Birmingham in December 1861, married Amila Shelvington at Aston on June 6th 1885, had a daughter Amina Grosvenor Tranter born 1886 and a son William Tranter born 1888, died Aston Birmingham in September 1893 aged 31 years. He was listed as a gun and pistol maker and also as a general labourer/brass maker but by 1891 he was listed as living by own means with his address being The Shrubberies in Aston.

TRANTER, WILLIAM (2)
Grandson of W.T., son of William Grosvenor Tranter, born 13/6/1888 at Gravelly Lane Erdington (Birmingham), still in London in 1912, came to Australia in 1913/14, enlisted in Australian Army as an engineer. Married twice, first to Dulcie Brooke on August 16th 1911, they were divorced on February 23rd 1914 and the second to Doris Muriel Dormor on October 15th 1919 at Drummoyne, a suburb of sydney, with one son William Harold Grosvenor Tranter and one daughter Jill Grosvenor Tranter.

TRANTER, WILLIAM HAROLD GROSVENOR
Great grandson of W.T., son of william Tranter (2)born in 1920, lives at Kincumber Australia, married to Beryl with three children.

TRANTER, JILL GROSVENOR
Great granddaughter of W.T., son of William Tranter (2) born 1922, first marriage to Richard Lewis Green with three children, second marriage to Colin Keith Coulter with two children. The name Grosvenor has been passed down through the generations to the present day in memory of William the gunmaker and his wife Amelia Grosvenor
TRANTER, MARY LOUISA
Daughter of W.T., married Thomas William Watson

WATSON, THOMAS WILLIAM
Son-in-law of W.T., married Mary Louisa Tranter, Watson was a gunmaker at 4 Pall Mall london

TRANTER, DAVID
Brother of W.T., Born in 1829 at Stafford. married Sarah who was born in 1851 at Wall Heath Stafford. He may have been first married to a Lydia. Father of David born 1867, Thomas Musgrove born 1868, Walter born 1869, Henry born 1872 and Lidia born 1876. He was apprenticed to W.T. in 1846.

TRANTER, THOMAS
Brother of W.T., born 16th May 1824 at Oldbury Salop (Shropshire), immigrated to Australia in the 1850's, married Anne Devitt in 1857 at Ballarat, Anne died in 1858 aged 29 from the effects of "protcacted and difficult labour lasting 11 days" the child also died, remarried Margaret O'Brien 11/10/1861 at St Alipius Church (catholic) Ballarat, occupation listed as carpender living at Clunes, later moved to Jerilderee, killed when thrown from a horse he was riding was bitten by a horse-fly in 1896 at Jerilderee, was a selector at Kulki with no children. Died 3/4/1896, buried at Jerilderee on the 5th, There was no gravestone. May have been involved in Eureka Stockade Sunday 3/12/1854??

TRANTER, ANNE
Sister of W.T., born 11th Dec 1817 at Oldbury Salop, married George Johnson 14/2/1842 at Kings Norton Register Office, one child Albert born 27/7/42 at Moor St West Bromich, immigrated to Australia on the "Great Britain" arriving in Victoria October 1853, George shown on passanger list as a smith, lived in Ballarat, Anne died 28/11/1906 aged 88 at Ballarat. George died on 10/9/1902 at Ballarat.

JOHNSON, ALBERT
Son of George Johnson and Anne Johnson (nee Tranter), born 27/7/1842 at Moor Street West Bromwich, married Pricilla Austin 6/1877 at Ballarat, 5 children born at Ballarat,
Albert Edwin born 1879, Mabel Ann born 1882, George born 1886, Eleanor born 1886, Olive born 1891.
TRANTER, THOMAS MUSGROVE
Born in 1868 at Birmingham, son of David and Sarah Tranter, nephew of W.T., working as an action filer in Dean Buildings, Weaman St Birmingham in 1890, moved to 31.5 Whittall St in 1897 where his brother Walter was already trading as a gunmaker, circa 1900 he was trading with Walter as Tranter Bros at 18 Sand St Birmingham. Thomas was devorced and remarried circa 1900, retired from the business in 1905 and died in 1937 aged 69 at Solihull.

TRANTER, WALTER
Born in 1869 at Birmingham, son of David and Sarah Tranter, nephew of W.T., apprenticed to Henry Stanley Jackson at Pryse & Co, 84 Aston St circa 1883. Circa 1888 he worked for Lincoln Jefferies in Steelhouse lane. In 1896 he listed as a gun, rifle and pistol maker at 31.5 Whittall St and in 1897 he was joined by his brother Thomas Musgrove Tranter, circa 1900 he was trading with Thomas as Tranter Bros at 18 Sand St. He was a tutor at the Birmingham Gun Trade Technical School between 1908 and 1916. The firm moved to Steelhouse Lane in the 1920s and finally closed in 1957. Walter died in 1965 aged 95.

TRANTER, ALFRED
Nephew of W.T.

TRANTER, DAVID
Son of David and Sarah Tranter, born at Warwickshire in 1867. Nephew of W.T.
TRANTER, HENRY
Son of David and Sarah Tranter, born at Birmingham in1872. Nephew of W.T., died in 1968 aged in his 90s.

TRANTER, HARRY
Son of Henry Tranter, aged 84 in 1983, great nephew of W.T.
TRANTER, LIDIA
Daughter of David and Sarah Tranter, born at Birmingham in 1876. Niece of W.T.

---


Rifles & long guns - Revolvers & pistols - Cased pistols
Flintlock & percussion pistols - Derringers, pocket & travelling pistols - Armour, Accessories & Books
---
PHOENIX ANTIQUE ARMS,
17 Darracott Close, Deal, Kent CT14 9PU
Mrs. Susan Dorothy Reason t/a Phoenix Antique Arms (2021)
Please contact Susan on 01304 372651 or e-mail us at: sales@oldguns.co.uk Web: www.oldguns.co.uk & www.antique-arms-and-guns.co.uk